03 May

Tax Facts without Political Spin New non-profit makes unbaised data readily available to all

The Internet has put virtually unlimited information at our fingertips. And yet, much of the information about our government and tax system available online often reflects the bias of one group or another. If only there was a way to see important data uncolored by spin, gossip or a partisan bent.
Just the facts
Enter USAFacts.org, a website launched in April that makes a wide variety of data about life – and taxes – in the United States easily available. It centralizes and organizes publicly available statistics about population, finance, and the economy from dozens of government bodies, such as the Agriculture, Treasury and Justice departments. It's a nonprofit site whose goal is to present the data without a political agenda or commercial motive.
More importantly, USAFacts.org makes the data visual. Rather than having to pore through several databases to understand population statistics or government revenue, you can see the trends in an interactive graph. Here's one screenshot of their data on how much personal income tax contributes to the federal budget: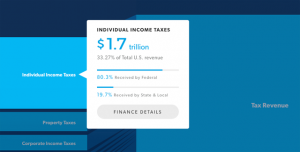 Source: USAfacts.org
The mission
The site was created by retired Microsoft Chief Executive Officer Steve Ballmer, who was inspired by a mission to turn government data into usable information as a free public service for its citizens.
From a tax perspective, USAfacts.org lays out where our tax dollars come from and how they are spent. Only time will tell if this initiative helps politicians, media, and each of us to be more knowledgeable about the facts.
As always, feel free to pass this Tip along to friends, and reach out if you need help with your personal tax and finance situation.